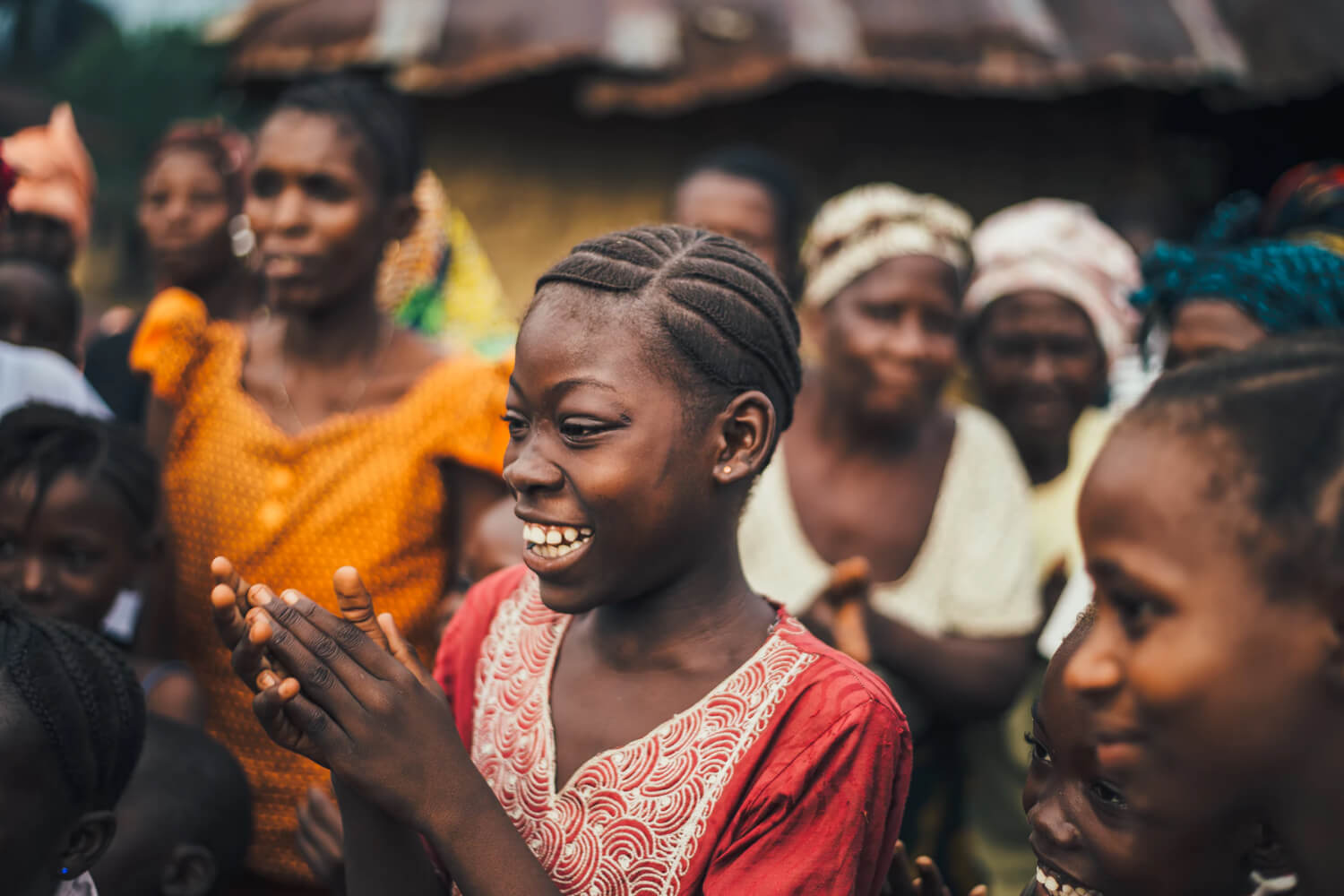 If you had one wish for your children, what would it be? For me, I always think about how I want my children to be happy and strong physically and emotionally.
As the children we care for at Protect A Girls' Image get older and more submerged into the world around them, I often find myself hard-pressed on how well they will be able to cope after they grow up and leave their rural homes.
February 3rd to February 9th was Child's Mental Health Awareness Week, a topic near and dear to my heart. During that week I kept asking myself, Have we really prepared these children for the trials and tribulations of life that is to come? Have we implemented all the tools necessary to ensure a happy life for them?
Surely we can't guarantee their happiness, but we can give them a strong foundation for their mental health – and that could be everything. Sometimes happiness sounds a lot like the main components of mental health.
As a parent, you can really get overwhelmed by scary statistics about how children are having mental health issues all over the world. The Good news is you have great power when it comes to nurturing your children's mental health.
How common are mental health problems among children and youth?
One in four Kenyans is likely to suffer from a mental illness at some point in their life and they will find it difficult to get the healthcare they need, reveals a Nation Newsplex investigation.
The review of mental health data also finds that the suicide rate for men is three times higher than the rate for women. Figures from the World Health Organization (WHO) show that the suicide rate per 100,000 people in Kenya is seven, with the rate for men being 11 and women three.
Mental health issues can affect youth at any age. But certain situations can place some young people at a higher risk, including:
A family history of mental illness.
Children who experience difficult economic circumstances.
Children and youth who have poorer overall health, live in isolated communities and have scarce educational and work-related opportunities.
Children and youth who experience bullying and/or rejection from their families.
Big life changes such as moving to a new city or new school, caregiver separation or divorce, serious illness or death in a close relative or friend.
Facing or witnessing trauma, including abuse.
Substance use.
Unfortunately, too many children and youth don't get help soon enough. Mental health disorders can prevent children and youth from succeeding in school, from making friends, or becoming independent from their parents.
Children and youth with mental health disorders may have trouble reaching their developmental milestones.
The good news is that mental health disorders are treatable. There are many different approaches to helping children and youth struggling with emotional or mental health problems.
Getting help early is important. It can prevent problems from becoming more serious and can lessen the effect they have on your child's development.
How do I know if my child or youth has a mental health problem?
All children and youth are different. If you're concerned your child may have a problem, look at whether there are changes in the way they think, feel or act.
Mental health problems can also lead to physical changes. Ask yourself how your child is doing at home, at school, and with friends.
Changes in thinking
Saying negative things about themselves or blaming themselves for things beyond their control.
Trouble concentrating.
Frequent negative thoughts.
Changes in school performance.
Changes in feelings
Reactions or feelings that seem bigger than the situation.
Seeming very unhappy, worried, guilty, fearful, irritable, sad, or angry.
Feeling helpless, hopeless, lonely or rejected.
Changes in behavior
Wanting to be alone often.
Crying easily.
Showing less interest in or withdrawing from sports, games or other activities that they normally enjoy.
Over-reacting, or sudden outbursts of anger or tears over small incidents.
Seeming quieter than usual, less energetic.
Trouble relaxing or sleeping.
Spending a lot of time daydreaming.
Falling back to less mature behaviors.
Trouble getting along with friends.
Physical changes
Headaches, tummy aches, neck pain, or general aches and pains.
Lack of energy, or feeling tired all the time.
Sleeping or eating problems.
Too much energy or nervous habits such as nail-biting, hair twisting or thumb sucking.
Remember: Just because you notice one or more of these changes does not mean your child or youth has a mental health problem.
As an advocate for mental health, I want to share tips on how you can help nurture children's mental health. Here are just a few :
 1. Build Their Self-esteem.
Helping your children develop strong self-esteem so that they feel good about themselves is very important. You should create a sense of safety and security by building confidence in their abilities. You can do this by;
Praise them when they do well. Recognize their efforts as well as what they achieve: Regularly support and encourage your child. Make sure to praise their efforts, achievements, and to believe them and believe in them.
Let Them Learn Naturally: Promote independent learning. Have your child experience and accept the natural consequences of life and experience the benefits of positive actions as well.
Encourage Healthy Self-Talk: Use words of encouragement and daily affirmations.
Show lots of love and acceptance. Your child needs to feel like they are invited, accepted and loved. Make sure to spend family time together, play with them and remind them how valuable they are.
Ask questions about their activities and interests.
Help them set realistic goals.
2. Model Healthy Behavior.
Children learn from the behavior modeled by the important adults in their life – so be sure to lead by example the best strategies regarding self-care, healthy social interactions, communication, and emotional stability.
 

3. E

stablish Healthy Habits.
Do not underestimate how much creating healthy habits at home can impact a child. Make sure your child is getting enough rest, eating healthy foods and getting enough playtime. So what more can you do?
Be aware of your child's media use, both the content and the amount of time spent on screens. This includes TV, movies, the Internet, and gaming devices. Be aware of who they might be interacting with on social media and online games.
Be careful about discussing serious family issues—such as finances, marital problems, or illness—around your children. Children can worry about these things.
Provide time for physical activity, play, and family activities. Physical activity is important to our overall mental wellness and therefore a healthy home environment should include activity, play, and family interaction.
Be a role model by taking care of your own mental health: Talk about your feelings. Make time for things you enjoy.
4. Help children build strong, caring relationships.
A strong relationship consists of communication, respect, trust, problem solving and affection. Healthy relationships share common goals and responsibilities as well as acceptance and commitment. Further, strong relationships will promote resilience which is the ability to tolerate difficult situations in positive ways. This is what you can do;
It's important for children and youth to have strong relationships with family and friends. Spend some time together each night around the dinner table.
Show your children how to solve problems.
RELATED CONTENT:  Tips on How Parents Can Help Children who have Experienced Trauma.
5. Listen to and Respect their Feelings and Reactions.
Listen to how your child is feeling and validate their emotions. Guide your child through big feelings and show them important coping mechanisms and ways to manage challenges (like meditation). Teach them the importance of expressing their emotions through language. You should know that;
It's OK for children and youth to feel sad or angry. Encourage them to talk about how they feel.
Keep communication and conversation flowing by asking questions and listening to your child. Mealtime can be a good time for talking.
Help your child find someone to talk to if they don't feel comfortable talking to you.
Children often learn from modeling; with exposure to a variety of feelings, language, and coping mechanisms, children, in turn, will become more self-aware
6. Distress tolerance.
Finally, children require direction on learning to relax and self-soothe; talking, quiet activity, walking and alone time are all healthy reactions to stressful situations.  In difficult situations, you can help children and youth by;
Teach your child how to relax when they feel upset. This could be deep breathing, doing something calming (such as a quiet activity they enjoy), taking some time alone, or going for a walk.
Talk about possible solutions or ideas to improve a situation and how to make it happen. Try not to take over.
When do I go for help?
There are many ways to help your child achieve good mental health. Sharing your concerns with the doctor is one of them. Talk to your child's doctor:
if the behaviors described above last for a while, or if they interfere with your child's ability to function.
if you have concerns about your child's emotional and mental health.
Talk about your child's behavioral development and emotional health at each well-child visit.
INCASE YOU MISSED IT:  Catcalling is Not a Compliment, It's Harassment.
Your child's mental health matters.
Good mental health is essential to overall health in every child. When you strengthen your child's mental health not only are you positively affecting how your child thinks feels and behaves, you are increasing their chances of success in school, with peers, and in life.
These guidelines aren't just for children either, but are important for everyone looking to take care of their mental health! If you enjoyed this post, you might want to read this post on how you can teach your child about sex and consent at every age.