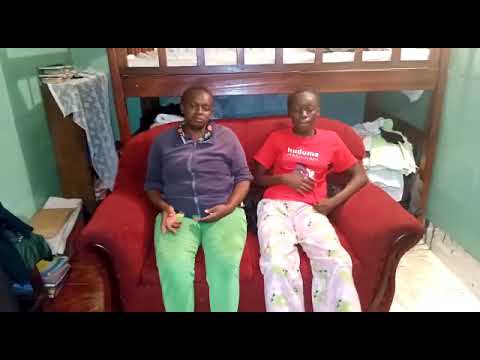 Meet Marion Wikale, a form One student In Nile Road Day Secondary School in Jericho, Makadara District. Nile Road Secondary School was not her dream high School but a school she found herself in due to unavoidable circumstances. She had first been admitted to A few months before Marion had to join High School, she had to deal with the emotional stress of her father who she really idolized leaving their family for another woman. Her mother, Teresiah Waruguru had to step up as the sole breadwinner. Marion could not join the School she had been accepted to despite her good grades. Like any other firstborn, she was worried about her mother's emotional state, being unemployed and her capabilities of providing for the family, let alone pay for a Boarding School. Marion, therefore, settled to attend a Day School near home since it was cheaper and she could look out for her mother. The School is way below her potential since she is very bright and proactive.
Teresiah Waruguru, Marion's mother was abandoned by her husband ( a Doctor)just when Marion was about to join High School. Teresiah is a high school drop-out and so it has been difficult for her to land a job with a stable income so she has resorted to doing casual jobs like doing laundry, vending food like chapattis and mandazis, and any other casual job she can do just to put food on the table. She is therefore incapable of paying school fees for her two daughters Marion and Angela who is still at Middle School.
Protect Girls Image has provided psychosocial support for the family especially Marion who has really been affected by her Father's absence and the drastic change in the quality of life. She fell into Depression, had self-esteem issues and was isolating herself. One of our counselors had sessions with her for therapy every week where she learned to cope and be positive despite her circumstances.
71% of High School Drop Outs come from Fatherless homes. It is no guarantee that children with involved Dads won't struggle in school. However, when the Dad is not in the picture, the feeling of abandonment leaves a child unable to trust and leads to behavioral issues, depression, likely to be sexually active at a young age and likely to abuse drugs.
As much as the psychosocial support she has received from PGIO has helped, she still is suffering due to lack of school fees. She misses her classes a lot after being sent home and catching up becomes difficult. Marion needs stability in her education since she is very bright and would like to help her family and society after becoming a successful Engineer.
If you would like to help in any way with Marion's case, please scroll down to the Donate Button or Contact the Organization through info@protectagirlsimage.org . Every Dollar/ Shilling Counts.