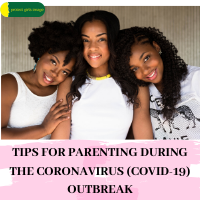 Across the world, due to the spread of coronavirus disease (COVID-19), children are affected by physical distancing, quarantines and nationwide school closures.
I am sure most of your children and youth may be feeling more isolated, anxious, bored and uncertain.
They may feel fear, and grief, over the impact of the virus on their families.
I have really been working hard to find content that will help open the world of isolation.
Watch out for resources and ideas to support parents and projects that will engage children in understanding the coronavirus, the challenges it brings to their world and what can be done to protect them.
I have also done a previous blog about how you can spark a meaningful conversation about coronavirus with your children.
To help parents interact constructively with their children during this time of confinement, I have shared below very simple but constructive tips you can use while parenting during this period.
I have these six one-page tips that I outsourced from WHO for parents.
They cover the following:
Planning a one-on-one time.
Staying positive.
Creating a daily routine.
Avoiding bad behavior.
Managing stress.
Talking about COVID-19.
RELATED CONTENT: Your Daughter Does Not Owe Anyone a Hug This Easter Holiday, Not Even Grandpa.
I hope this information helps in one way or another in helping your little ones cope during this confusing period. Feel free to click on the Links on the Infographics to learn more.
Have an amazing weekend!!
INCASE YOU MISSED IT:
Coronavirus- How to Manage Your Mental Health During Self-Isolation.
10 Tips on How Parents Can Help Children Who Have Experienced Trauma.